Schwaches drittes Viertel besiegelt Heimniederlage von medi bayreuth gegen Ulm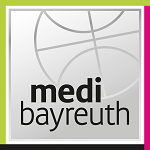 HEROES OF TOMORROW unterliegen direktem Playoff-Konkurrent mit 69:85
Am 21. Spieltag in der easyCredit Basketball Bundesliga hat medi bayreuth seine Siegesserie in der heimischen Oberfrankenhalle leider nicht fortsetzen können. Nach wettbewerbsübergreifend zuletzt fünf Erfolgen in Serie unterlagen die HEROES OF TOMORROW am Samstagabend gegen ratiopharm ulm mit 69:85 (38:36) und mussten somit im Kampf um die Playoff-Plätze erst einmal wieder etwas abreißen lassen.
Vor 3.307 Zuschauern fiel die Entscheidung unmittelbar nach dem Seitenwechsel, als die Ulmer in einer insgesamt recht schwachen Bundesligapartie in der Verteidigung die Intensität deutlich erhöhten und so einen letztlich entscheidenden Vorsprung herausspielen konnten.
Bester Punktesammler in Reihen der HEROES OF TOMORROW, die erneut auf James Woodard und Joanic Grüttner Bacoul verzichten mussten, war Nate Linhart mit 16 Punkten.

Das sagt Bryce Alford (medi bayreuth):
"Es war ein schweres Spiel für uns, Ulm kam hier her und hat sehr gut gespielt. Sie haben gute Würfe kreiert und auch getroffen, das gelang uns leider nicht. Leider konnten wir heute nicht aus dem Vollen schöpfen und viele standen deshalb sehr lange auf dem Parkett. Aber das soll keine Ausrede sein! Wir waren heute einfach nicht auf dem Niveau des Gegners."

Weitere Informationen zur Heimniederlage der HEROES OF TOMORROW gegen ratiopharm ulm finden Sie hier.

Medieninformation: medi bayreuth