Nach der Länderspielpause geht es für medi bayreuth im Playoff Kampf weiter HEROES OF TOMORROW empfangen am Samstag ratiopharm ulm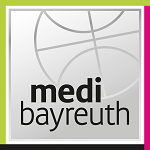 17 Tage nach dem grandiosen Auswärtssieg in Würzburg und der anschließenden Länderspielpause, startet medi bayreuth morgen Abend in den Saisonendspurt. Das Programm für die HEROES OF TOMORROW beginnt dabei genauso, wie es vor zwei Wochen geendet hatte, nämlich mit einer Partie gegen einen direkten Konkurrenten im Kampf um die Playoff Plätze. Am Samstag, 29. Februar um 18:00 Uhr, können Bastian Doreth & Co. auf den Heimvorteil bauen, wenn es in der Oberfrankenhalle gegen den aktuellen Tabellenneunten, ratiopharm ulm, gehen wird.
Im Aufeinandertreffen mit den Ulmern hat die Mannschaft von Head Coach Raoul Korner dabei nicht nur die Möglichkeit, die eigene Bilanz auf zehn Siege und zehn Niederlagen auszugleichen. Mit einem Sieg könnte man bei Niederlagen von Würzburg (in Bonn) und Göttingen (in Braunschweig) sogar erstmals in dieser Saison auf einen Playoff Platz klettern.
Um top auf das Spiel gegen Ulm vorbereitet zu sein, hatten Bastian Doreth & Co. zunächst fünf freie Tage, um die Akkus wieder aufzuladen. Anschließend begann unter der Leitung von Assistant Coach Lars Masell die Vorbereitung auf die bevorstehende Aufgabe und ein verändertes Ulmer Team.
Weitere Informationen zum Heimspiel der HEROES OF TOMORROW gegen ratiopharm ulm finden Sie hier.
Medieninformationen: medi bayreuth, Presseabteilung, vom 28.02.2020.