medi bayreuth kann den FC Bayern München letztlich nur ein wenig ärgern HEROES OF TOMORROW unterliegen dem amtierenden Meister mit 75:91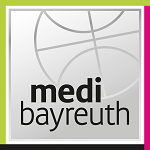 Ohne Mannschaftskapitän Bastian Doreth, der krankheitsbedingt kurzfristig passen musste, hat medi bayreuth am 22. Spieltag in der easyCredit Basketball Bundesliga gegen den amtierenden deutschen Meister aus München eine Heimniederlage hinnehmen müssen. In der mit 3.400 Zuschauern ausverkauften Oberfrankenhalle unterlagen die HEROES OF TOMORROW am Sonntagnachmittag dem FC Bayern München Basketball mit 75:91 (35:48).
Die Mannschaft von Head Coach Raoul Korner bot dem Team aus der Landeshauptstadt dabei einen guten Fight. Den doch schon deutlichen Pausenrückstand hatte man mit viele Leidenschaft, Kampfgeist und schönem Teambasketball bis zum Ende des dritten Abschnitts nochmals komplett aufholen können. Kurzzeitig schien eine Sensation möglich, doch die Bayern erwiesen sich im Schlussabschnitt zu abgezockt und gewannen das Spiel letztlich verdient und nahmen die Punkte aus der Oberfrankenhalle mit nach München.
Das sagt Nate Linhart (medi bayreuth):
"Es war ein harter Kampf! Wir haben ihnen gut Paroli geboten, allerdings hat es dann letztendlich leider nicht gereicht. Der FC Bayern hat einen sehr tiefen Kader und konnte dies auch nutzen. Wir haben Basti natürlich schmerzlich vermisst, aber es war schön, wieder auf Juice zählen zu können. Ich hoffe, dass wir mit viel Elan am Mittwoch in die Partie kommen werden."
Weitere Informationen zur Heimniederlage der HEROES OF TOMORROW gegen den FC Bayern finden Sie hier.
Medieninformationen: medi bayreuth, Presseabteilung, vom 08.03.2020.