medi ist zwischen den Playoff-Spielen gegen Cluj noch in der Bundesliga gefragt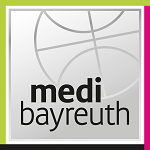 HEROES OF TOMORROW empfangen am Sonntag den deutschen Meister
Zwischen den beiden Viertelfinalspielen in den Playoffs im FIBA Europe Cup, bei denen es für die HEROES OF TOMORROW am kommenden Mittwoch in der Oberfrankenhalle gegen die Rumänen von U-BT Cluj Napoca um den Einzug ins Halbfinale gehen wird, hat der Spielplan in der easyCredit Basketball Bundesliga noch eine weitere Aufgabe für medi bayreuth parat.
In eigener Halle empfängt die Mannschaft von Head Coach Raoul Korner am Sonntag um 15:00 Uhr den amtierenden deutschen Meister, den FC Bayern München Basketball. Die Begegnung des 22. Spieltages gegen die Münchner ist für das medi-Team die zweite Partie von insgesamt fünf Spielen in nur 14 Tagen.
Sogar noch etwas stressiger hat es aktuell der nächste Gegner von medi bayreuth. Das Spiel am Sonntag in der Oberfrankenhalle ist für die Bayern das vierte Spiel in nur einer Woche. Nach dem Match in der easyCredit BBL am vergangenen Sonntag gegen die EWE Baskets Oldenburg (79:58 Heimsieg) ging es in der EuroLeague am Mittwoch gegen Baskonia (71:80 Heimniederlage) und dann am Freitag Abend noch nach Spanien zum FC Barcelona (80:83 Auswärtsniederlage).

Weitere Informationen zum Heimspiel der HEROES OF TOMORROW gegen den FC Bayern finden Sie hier.
Medieninformation: medi bayreuth