HEROES OF TOMORROW setzen im Frankenderby ein dickes Ausrufezeichen medi bayreuth gewinnt Gastspiel bei s.Oliver Würzburg mit 85:66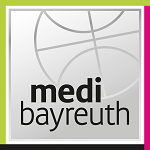 In herausragender Manier hat sich medi bayreuth am 19. Spieltag in der easyCredit Basketball Bundesliga wieder näher an die Playoff-Plätze herangespielt. Im Frankenderby bei s.Oliver Würzburg gewann die Mannschaft von Head Coach Raoul Korner am Mittwochabend mit 85:66 (35:33) und holte sich damit ihren neunten Saisonerfolg und verkürzte den Abstand in der Tabelle auf die weiterhin auf Position acht rangierenden Unterfranken auf einen Sieg.
In der mit 2.977 Zuschauer gut gefüllten s.Oliver Arena boten die HEROES OF TOMORROW eine äußerst leidenschaftliche Leistung. In keinem der vier Viertel gestattete man den Unterfranken mehr als maximal 17 Zähler und legte so unter dem eigenen Korb den Grundstein für diesen ebenso verdienten wie sehenswerten Auswärtssieg, bei dem Lukas Meisner mit 22 Punkten und Bastian Doreth mit 17 Zählern als Scorer auf Bayreuther Seite jeweils neue Karrierebestwerte aufstellten.
Das sagt Lukas Meisner (medi bayreuth):
"Es war eine riesige kämpferische Leistung des Teams. Wir haben alle Herz bewiesen und wussten, dass wir auf Grund der Abwesenheit von James Woodard alle noch einen Gang zulegen müssen, was uns auch gelungen ist. Es war ein ganz wichtiger Sieg im Kampf um die Playoffs."
Weitere Informationen zum Auswärtssieg der HEROES OF TOMORROW bei s.Oliver Würzburg finden Sie hier.
Medieninformationen: medi bayreuth, Presseabteilung, vom 13.02.2020.