Vor der Länderspielpause wartet noch das Frankenderby auf medi bayreuth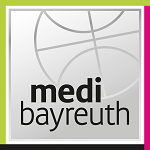 HEROES OF TOMORROW zu Gast beim Playoff-Anwärter s.Oliver Würzburg
Nach zuletzt sehr intensiven Wochen mit vielen Spielen national wie international, steht für die HEROES OF TOMORROW eine wohlverdiente 2 ½-wöchige Pause an. Bevor es aber soweit ist und man am 29. Februar mit einem Heimspiel gegen ratiopharm ulm wieder ran muss, steht für medi bayreuth noch der 20. Spieltag auf dem Programm. Und der hat es noch einmal in sich, denn es geht am Mittwoch, 12. Februar um 19 Uhr, zum unterfränkischen Rivalen nach Würzburg.
Die Mannschaft von Head Coach Denis Wucherer wird dabei alles daran setzen, ihren kleinen Negativlauf zu beenden. Erstmals seit Ende Oktober mussten sich Jordan Hulls & Co. wieder in zwei aufeinanderfolgenden Partien geschlagen geben. Nachdem man zunächst wenig überraschend beim Tabellenführer in München verloren hatte, unterlag man auch am vergangenen Spieltag letztlich doch recht deutlich mit 87:100 bei den Basketball Löwen Braunschweig. Allerdings mussten die Würzburger hier auf ihren Topscorer Cameron Wells, aufgrund eines grippalen Infekts, verzichten.
Während die Würzburger somit auswärts nun eine Bilanz von vier Siegen und fünf Niederlagen vorzuweisen haben, sieht es in der heimischen s. Oliver Arena deutlich besser aus. Hier haben Jordan Hulls und seine Teamkollegen mit sechs Siegen aus neun Spielen eine durchaus positive Bilanz, die umso höher einzuschätzen ist, da die drei Niederlagen gegen die Top-Drei der easyCredit Basketball Bundesliga zustande gekommen sind (ALBA BERLIN, FC Bayern München, MHP RIESEN Ludwigsburg), wobei man nur gegen Berlin chancenlos waren. Damit bringt es s.Oliver Würzburg zur Zeit auf eine insgesamte Bilanz von zehn Siegen und acht Niederlagen, was ihnen Tabellenplatz sieben einbringt und die Unterfranken Mitte der Saison zu einem klaren Playoff Anwärter macht.
Weitere Informationen zum Auswärtsspiel der HEROES OF TOMORROW bei s.Oliver Würzburg finden Sie hier.
Medieninformation: medi bayreuth