"El Ciclón" geht mit Ludwigsburg in Jahr zwei (und drei)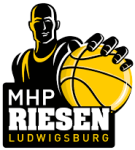 Yorman Polas Bartolo bleibt mit 1+1-Vertrag
Die MHP RIESEN Ludwigsburg haben, gemeinsam mit Yorman Polas Bartolo, die nächste Vertragsverlängerung unter Dach und Fach und die Personalplanungen für die Saison 2021/2022 auf die Zielgerade gebracht. Der Deutsch-Kubaner, amtierender Verteidiger des Jahres der easyCredit BBL, wird weiterhin in Gelb-Schwarz (bis 2022) auflaufen. Der Kontrakt enthält zudem eine Option auf ein weiteres Jahr (bis 2023).



Bereits bei der Saisonabschlussfeier im Autokino Kornwestheim scherzten Moderator Sebastian Menzel und Yorman Polas Bartolo über das Alter von "El Ciclón" und die schier unerschöpfliche Energie, die der 35-Jährige fortwährend und immer effizienter aufs Parkett zu bringen vermag. Der Deutsch-Kubaner hatte an der so erfolgreichen Spielzeit der MHP RIESEN Ludwigsburg erheblichen Anteil – und spielte die vermutlich beste Saison seiner Karriere. Er stand in 45 der 46 Saisonspiele in der schwäbischen Startformation und markierte durchschnittlich 9.5 Punkte, 4.4 Rebounds und 2.4 Assists. Ebenso wichtig: Er war teamintern der beste Verteidiger. Polas Bartolo nahm sich äußerst gerne und ebenso erfolgreich der besten Punktesammler des Gegners an und hielt diese erfolgreicher als jeder andere Spieler der Liga in Schach. Die Auszeichnung als "Defensive Player of the Year" war folgerichtig wie hochverdient – und die dritte in Serie. 2018 und 2019 erhielt Polas Bartolo, ebenso wie 2021, den Award. 2020 wurde die Auszeichnung, aus virusbedingten Gründen, nicht vergeben.



In der kommenden Spielzeit wird er nun erneut als Titelverteidiger in die Saison starten und dabei auch international wieder angreifen können. Entsprechend viel hat er sich vorgenommen: "Ich freue mich sehr meinen Vertrag in Ludwigsburg zu verlängern. Ich danke dem Verein für das Vertrauen und blicke gespannt auf [mindestens] ein weiteres Jahr als 'RIESE' - diese Saison hoffentlich mit vollen Hallen und geballter Fan-Energie. Empezamos! Hasta pronto!", sagt Polas Bartolo.



Sollte es das Pandemie-Geschehen zulassen, könnte auch eine Rückkehr ins Team der Federación Cubana de Baloncesto in Reichweite sein. Zu gerne hätte der kubanische Verband den RIESEN-Wirbelwind bereits für die Länderspielfenster in der vergangenen Spielzeit nominiert. Aufgrund der erschwerten Quarantäne- und Reise-Bedingungen blieb Polas Bartolo aber eine Rückkehr ins Nationalteam seines Heimatlandes vorerst verwehrt – ist aber weiterhin auf der Agenda.



Headcoach John Patrick, der sich über die nächste Vertragsverlängerung freut, kommentiert die Unterschrift seiner #13 wie folgt: "Es ist großartig, dass wir Yorman wieder zurückhaben werden. Ihn in den eigenen Reihen zu haben ist wichtig, niemand möchte gegen ihn spielen. Er ist ein unfassbar ehrgeiziger Wettkämpfer – im Training und im Spiel. Neben dem Parkett ist Yorman derweil ein angenehmer und herzlicher Mensch, der unser Team bereichert, sich mit seiner positiven Attitüde und seiner Energie jung hält und auch deshalb die Positionen zwei bis vier mit Leichtigkeit spielen und vor allem verteidigen kann."

Medieninformation: MHP RIESEN Ludwigsburg