Brodeur kommt, Antunovic bleibt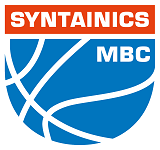 Der SYNTAINICS MBC hat auf den Ausfall von Aleksandar Marelja (Wadenverletzung) reagiert. In den kommenden zwei Monaten wird der US-Amerikaner AJ Brodeur das Wölfe-Trikot im MagentaSport BBL Pokal und in der easyCredit Basketball Bundesliga tragen. Zudem gehört der bisherige Trainingsgast Sandro Antunovic ab sofort offiziell zum erweiterten Kader.

"Wir haben einen Big Man mit spielerischen Anlagen gesucht: jemanden, der beweglich ist, gut passen kann und mit Energie spielt. Mit AJ haben wir ihn gefunden. Wir freuen uns, dass es so schnell geklappt hat", sagt SYNTAINICS MBC Headcoach Silvano Poropat über den 2,03 Meter großen und 104 Kilogramm schweren Power Forward, der einen Zweimonatsvertrag mit vereinsseitiger Option auf Verlängerung unterschrieb und bereits heute in Weißenfels eintrifft. Zwei negative Coronatests vorausgesetzt, soll die Neuverpflichtung bereits am Samstag (20.30 Uhr) im ersten Spiel des MagentaSport BBL Pokals gegen die HAKRO Merlins Crailsheim zum Einsatz kommen.

AJ Brodeur – die Initialen stehen für Austin James – wurde vor einer Woche 24 Jahre alt. Beim SYNTAINICS MBC geht er in seine erste Profisaison. In den vergangenen vier Jahren trug der aus Northborough/Massachusetts stammende US-Amerikaner das Trikot der University of Pennsylvania. Dort kam er in der vergangenen Saison auf 17,7 Punkte, 9,0 Rebounds und 5,2 Assists pro Partie. Dank dieser eindrucksvollen Statistik wurde er zum Spieler des Jahres in der Ivy League der Collegeliga NCAA gewählt. Mit insgesamt 1832 Punkten ist er der erfolgreichste Korbschütze in der Geschichte der University of Pennsylvania, die in der ewigen NCAA-Tabelle mit 1806 Siegen und 1123 Niederlagen auf Platz 20 rangiert.

"Ich kann es kaum erwarten, meine Profikarriere beim SYNTAINICS MBC zu beginnen und mich als Basketballer weiterzuentwickeln", sagte der US-Amerikaner kurz vor dem Abflug aus den USA. "Ich bin bereit, so hart ich kann an mir zu arbeiten. Ich hoffe, dass ich auf Mitspieler treffe, die ähnlich ehrgeizige Ziele verfolgen wie ich."

Sandro Antunovic bleibt

Im September reiste Sandro Antunovic mit den Wölfen ins Trainingslager nach Zrece/Slowenien. Im Land des Europameisters und auch nach der Rückkehr an die Saale überzeugte der Big Man, der sowohl als Center als auch Power Forward eingesetzt werden kann, mit seinem Talent und Einsatzwillen. Nun unterschrieb er einen Vertrag bis Saisonende. Der 22-Jährige soll in erster Linie bei Kooperationspartner BSW Sixers in der ProB auflaufen, die Wölfe im Training unterstützen und bei Personalnot auch in der easyCredit BBL den Kader ergänzen. "Ich freue mich darauf, mit dem Team zu trainieren, und ich hoffe auf die eine oder andere Gelegenheit, zum Einsatz zu kommen", sagte der 2,08-Meter-Hüne in perfektem Deutsch.

Sandro Antunovic besitzt die Staatsbürgerschaften von Kroatien und Bosnien-Herzegowina. Er kam 2018 vom ehemaligen Europapokalsieger Bosna Sarajewo nach Deutschland, wo er sich der Baskets Akademie Weser-Ems/Oldenburger TB anschloss. In der Saison 2019/20 lief er für die Regionalliga-Mannschaft der HAKRO Merlins Crailsheim auf.
Medieninformation: SYNTAINICS MBC